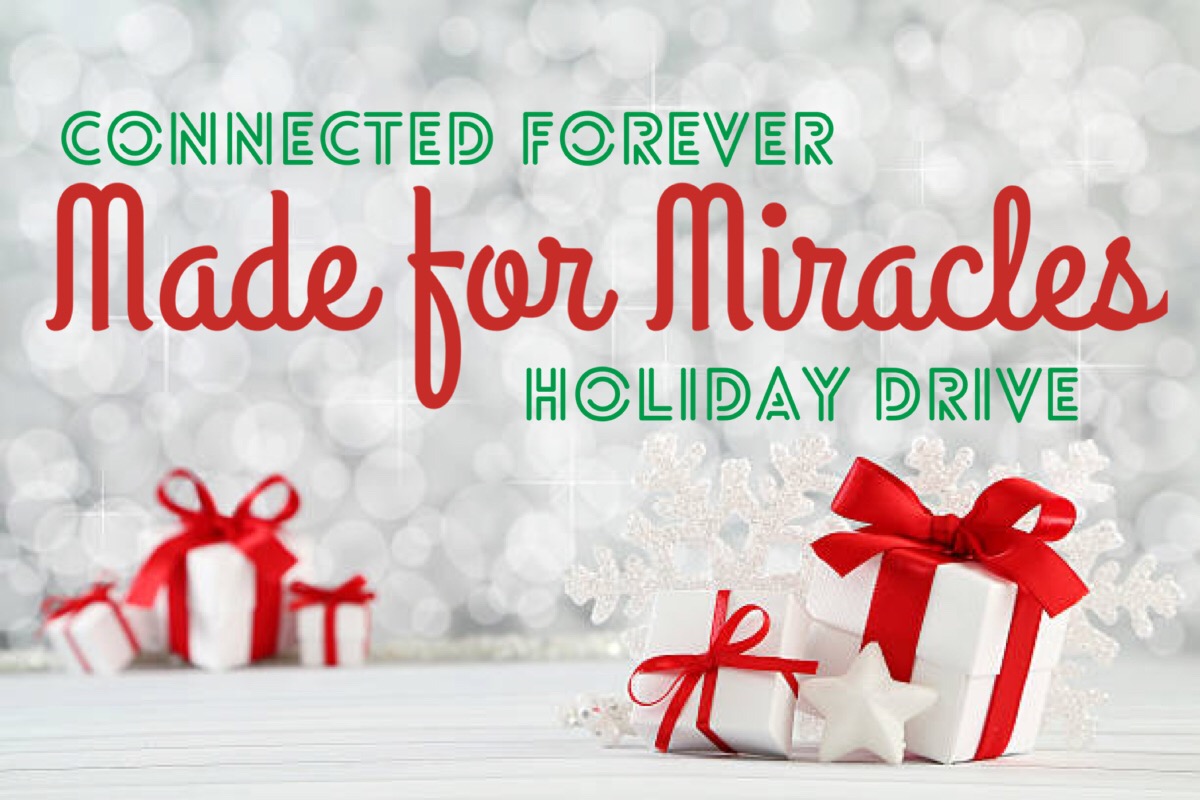 The holidays are many people's favorite time of the year! Gatherings with family and friends, the excitement and anticipation of Christmas day arriving, Christmas carols, holiday movies, gift-giving, church celebrations, cookie making and the list goes on and on. Families with a baby in the NICU have a holiday experience that is a little less magical. 
For many NICU families, the holiday season can be a pretty lonesome time where hope can turn to despair in a moment's notice. This is the time when you're supposed to be at home, showering your new born with gifts, hanging an ornament on the tree that says "Baby's First Christmas" and being together as a family. For NICU families, that just isn't happening this year. They will be in the NICU supporting their baby, who is fighting for life.
Would you like to join Connected Forever in helping NICU families capture the holiday spirit in spite of their surroundings and circumstances this year?  Consider donating to our Made for Miracles Holiday Drive.  Join us in our goal of surprising all NICU families at Bryan Health and CHI St. Elizabeth with holiday gifts so they can find a little joy and peace this holiday season! 
The Made for Miracles gift will include a Tiny Christmas Miracles onesie, a preemie crocheted Santa hat, The Itsy Bitsy Reindeer board book, a stuffed Reindeer and a 1st Christmas Ornament with 2017 & NICU Miracle on it.  Our hope is these gifts will bring a smile and positive memories of their baby's first Christmas during one of the most trying times of their life.
Our goal is enough donations for 35 NICU families.  However, if we exceed our goal, we will be expanding to more NICUs receiving our Made for Miracles Holiday gifts!  One Made for Miracle gift bag totals $45 worth of gifts. 
Here is how you can help!
1. Visit our Amazon Wish List here.  Made For Miracles Holiday Drive Donate Here
Purchase whatever item(s) you wish off the list and they will be shipped directly to us and put into the bags!
Items purchased off Amazon have our address as a shipping option.  Items purchased off Etsy will require our shipping address.  Please use Connected Forever 61691 733 RD Tecumseh, NE 68450
When purchasing the Ornament, please specify "NICU Miracle Design" at checkout.  Use the coupon code NICU30 to receive a 30% discount on the ornament.  If you choose to purchase any other items from the LilStinker Etsy shop, you may use the coupon code JUSTBECAUSE for 10% off as a thank you for supporting our cause!
When purchasing the preemie santa hat, there is a 15% discount if you choose to purchase quantities of 10 of more. Please send the shop owner a message or hit the "Ask a question" button on the item and let her know you are purchasing 10 or more for Connected Forever and a coupon code will be sent to you for your use.
2.  Monetary donations can be made on our website at Donate Now or you can mail it to us at:
Connected Forever 61691 733 RD Tecumseh, NE 68450
Any monetary donation made will be put towards the purchase of items off Made for Miracles Amazon Wish List.
Thank you for your interest in helping us brighten the holidays for the families we support.  Connected Forever is so excited about the inaugural launch of Made for Miracles!
A huge thank you to donations made at our World Prematurity Day event!  Those donations have allowed us to purchase 35 Tiny Christmas Miracles onesies for our Made for Miracles Holiday gifts!